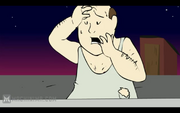 The suicide guy (name never revealed) appeared as the main focus of S02E06 - Suicidal Tendencies. The main focus of the episode was Dex and Lyle stopping this guy from killing himself in order to get ice-cream with Nina and Amanda.
Amanda and Nina tell Lyle and Dex to prevent this guy from suicide. They start off "helping" by insulting him, but Nina and Amanda force them to try a nicer way of stopping him. They end up whipping out their guitars and singing a song for him, which causes him to step back. They all celebrate and get into the car, where, very shortly, a corpse comes crashing down on the engine, revealing that the guy actually went for a run-up when stepping back.
Ad blocker interference detected!
Wikia is a free-to-use site that makes money from advertising. We have a modified experience for viewers using ad blockers

Wikia is not accessible if you've made further modifications. Remove the custom ad blocker rule(s) and the page will load as expected.