Season Three of Sanity Not Included lasted six episodes and ran between November 25th, 2012 to December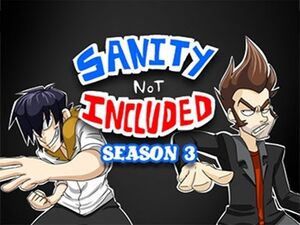 30th, 2012. It featured the same episode routine as Season Two, with video game skits running for upto the first 6-7 minutes of the episode then an animated skit at the end. 
Major Changes and Similiarites
Edit
Other similarities and traits which are brought into the Third Season of Sanity Not Included is:
Plots focusing on the same four original characters (Dex, Lyle, Nina and Amanda)
Raust makes a reapperance
Some new things brought into Season 3 is:
A new style opening theme tune
Generally longer animations
A new animtor (Nervarky)
We meet Dex's ex-girlfriend
New character 'Grim Reaper' is introduced as a one off character
New Artwork
Edit
Ad blocker interference detected!
Wikia is a free-to-use site that makes money from advertising. We have a modified experience for viewers using ad blockers

Wikia is not accessible if you've made further modifications. Remove the custom ad blocker rule(s) and the page will load as expected.