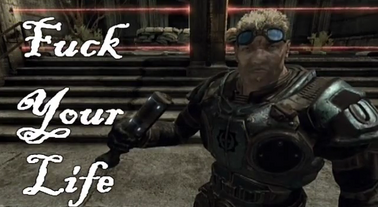 Fuck Your Life was one of the first Extra Skits on Dexterboy124 's channel. A youtube user asked why this wasn't put it in and Dexters reply was: "The thing is, is that this was actually one of the first skits I ever made, the problem I'm finding is that I keep making new stuff and I keep using those instead of the ones I have already made, and now I have a new hd capture card I doubt I would use this one, so thought I'd upload it on this, I'm gunna start uploading extra ones more often too as well as skits that didn't pass clearance so yeah, enjoy =]".
The Game Used is Gears of War 2.
Like all Extra Skits it was uploaded to DexterBoy124's personal channel and has recieved 14,000+ views.
Ad blocker interference detected!
Wikia is a free-to-use site that makes money from advertising. We have a modified experience for viewers using ad blockers

Wikia is not accessible if you've made further modifications. Remove the custom ad blocker rule(s) and the page will load as expected.